I've struggled with my "nice" tree in the living room. The family tree is in the family room. It's alive and is filled with all the decorations my kids have made or love. I just can't bear to part with them!
My "nice" tree is just for me. It's in the "nice" room and is filled with "nice" ornaments...it's just "nice" but it hasn't really had my stamp on it over the past few years.
Slowly, I've been trying to focus my ornament purchases into a theme without being too "theme-y". I needed to think...what is really "me", forget "nice"? I began to notice I was drawn to ornaments that were reminiscent of natural items. Birds, pine cones, acorns - now, we're getting somewhere!
I finished decorating my woodland tree yesterday and thought it was "nice" but a bit lacking in character - and I'm nothing if not a character! I thought to myself, "Self? WE NEED STICKS!" Oh mama, now we're cookin'!
I have always loved me some twigs - I've used them to decorate my
kitchen window
and my
mantle
- why not my tree? Huh? Why not?
I stuck in twigs, and berries, and feathers, and grasses...(hee, hee, I just said twigs and berries)
It just woke this old artificial tree right up!
So, let's think of adding some dimension to those trees that are looking flat. Go gather some twigs and start jamming them in here and there all willy nilly. You'll thank me, trust me.
Ps (I wrote this whole post using the word "sticks" and changed it to "twigs" because it sounded more decor-ish and designer-y.)
There is still time to link up with
Tutorial Tuesday
pop on over to be inspired!
.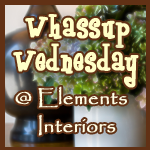 .